Silvia Vicinelli feat. Bobby Kimball "YOU & I"!
So happy to share with you my song & video "YOU & I" with "TOTO" legend Bobby Kimball!
"YOU & I" Words & Music by Silvia Vicinelli / Arrangement, Song & Video Production by Martin Morgenstern
Bobby Kimball: "Silvia is a really great singer and songwriter"
Video performance of my original song "Shine Your Light" that I wrote for a dear friend in very difficult times. I didn't know if I would ever release this song, so this was a very special day for us! At the grand piano my producer and arranger Martin Morgenstern who wrote this fabulous orchestra and piano arrangement.
Video live performance of my original song "Let Me See the Sun" from my album "Sundressed". At the grand piano: Martin Morgenstern
Silvia sings "Terra Memorandum" in the legendary Maarwegstudio2 in Cologne!
Silvia & Bobby in concert in Bulgaria - May 2018
Watch video of concert here
Video Shoot of "You & I"
Fantastic interview with Bobby Kimball! (We come in at 33:40) We talk about our duet song "You & I" for the first time.     Bobby also tells great stories and sings some of his famous TOTO hits!!
"Silvia's album "SUNDRESSED" - "An emotional, powerful voice - from intimate ballads to cinematic pop-rock songs with catchy melodies - a personal, passionate album with a voice that will touch your soul!"
"BROKEN VOW" - LIVE with Orchestra (Teo Otto Theater)
Session Singer Video - from Whitney to Rihanna and Beyoncé!
My interview at "100per100italian Night" in Cologne!
Silvia Vicinelli Fan Page at our 100per100 italian night in Cologne! She tells us her passion for Aceto Balsamico di Modena!http://www.silviavicinelli.com#silviavicinelli #100per100italian #iloveitalianfood

Posted by I LOVE ITALIAN FOOD on Mittwoch, 28. Oktober 2015
"SUNDRESSED" The Album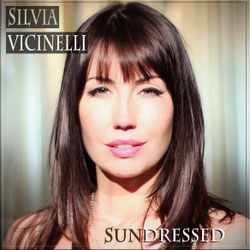 Silvia: "I wrote my first song 11 years ago not knowing where the journey would lead me. I was already a singer and actress but I didn´t know I was a songwriter. One day, sitting at the piano, I started writing my first song..
This album was like a "spiritual journey" for me, with all the ups & downs, the discouragement, the excitement. I have grown tremendously both musically and personally and I´m so thankful I had the privilege to collaborate with outstanding producer and composer Martin Morgenstern who produced, arranged and co-wrote the entire album. He supported me every step of the way with his incredible talent (and patience!) helping me create this very emotional and personal album."
"BREATHING" LIVE with Orchestra ORSO
"A dream come true! Silvia performes "Breathing" from her brand new album "Sundressed" live with ORSO (Orchestra & Choral Society) at the Rothaus Arena Freiburg/Germany with 200 musicians on stage".
"MUSIC is a wonderful way of getting in touch with the STILLNESS within"- Eckhart Tolle
"Musicians of the world must come to realize the potential of their calling. Like the shamans, we may serve as healers, metaphysicians, inciters, exciters, spiritual guides and sources of inspiration. IF THE MUSICIAN IS ILLUMINATED FROM WITHIN, HE BECOMES A LAMP THAT LIGHTS OTHER LAMPS. Then he is serving as a vehicle for the healing ocean of sound to wash over our planet and its people, HEALING what ails us. WHEN THE ARTIST IS IMMERSED IN SERVICE, GIVING HIMSELF UP OVER AND OVER AGAIN, another paradox occurs: he is being seen by all others as a MASTER." - Kenny Werner, "Effortless Mastery".

Photo: "Philharmonie Essen" - Christmas Concert "Konzert in der Weihnachtszeit"